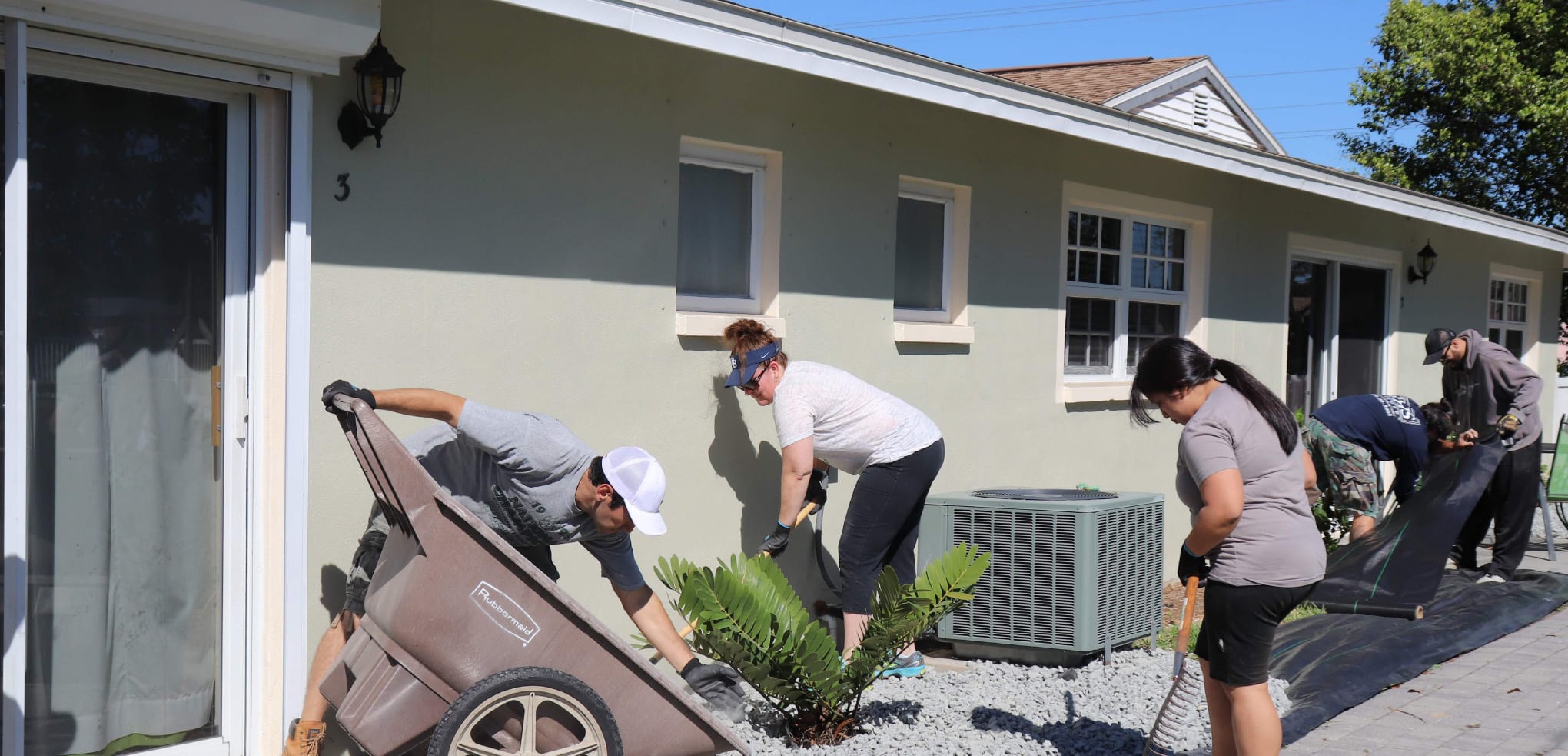 GET INVOLVED
There are multiple ways to participate and get involved in The New Beginnings and our mission to help single mothers. We host annual events and fundraisers including the following:
OUR EVENTS
Annual Benefit Gala
On February 8, at Crowne Plaza Fort Myers at Bell Tower Shops, we will celebrate our mission and the kindness of our community. We will enchant you with delightful musical entertainment along with an exciting Live Auction, as well as delicious food and drinks to welcome a spirit that nurtures generosity.
We invite you to join us in honoring the very people we serve – the women and children who have been forgotten by society. Please help us along on our journey in our ministry, as we carry the burden, honor, and God's vision to fight for the future of these women and their children.
Please consider one of our many sponsorships designed to support our fundraising efforts. All of the funding from these
sponsorships will directly support critical services for the families we serve. We are pleased to present a range of sponsorship levels with generous benefits and recognition opportunities. For details, contact us at 239-541-4312 or email us.
Be part of this year's Gala celebration and let your kind and generous contributions be the impetus to a stronger more sustainable service for all single mothers of our community. Thank you very much for your thoughtful support.
Our Mother's Brunch
The New Beginnings and Alikay Naturals are teaming up to honor the single mothers in the community who are taking on the initiative to not become a statistic while receiving help from their respected programs and organizations. Being a mother is hard but being a single mother is even harder. This brunch will celebrate these women and highlight their achievements.
During the event academic scholarships will be awarded to two deserving single mothers'. These women will be awarded for their academics as well as how they have exhibited leadership skills in their community and programs.
Dr. Marlene S Moulton Scholarship
Brought to you by Alikay Naturals
This scholarship is near and dear to Rochelle Graham-Campbell, co-founder and CEO of Alikay Naturals. This scholarship is named after her mother who at a young age became a single mother while still pursuing her dreams. Dr. Marlene S. Moulton has her practice in the Fort Myers area where she is healing patients in more ways than one. The practice is called The Listening Doctor because she not only listens with her stethoscope, but she listens with her heart. This scholarship is to honor Dr. Moulton, but it is also to give the single mothers in these programs extra support to continue with their life goals.
1
MUST HOLD A 2.5
CUMULATIVE GPA
2
SUBMIT AN ESSAY
1,000 WORDS, 12PT, DOUBLE SPACED
3
SUBMIT A COPY OF YOUR
UNOFFICIAL TRANSCRIPT
Essay Topic: Explain the steps you are taking to become a leader in your respected program and how this scholarship will help you move closer to your goals.
HOW YOU CAN GIVE A HAND UP
Volunteer
We are always looking for volunteers to come help in different areas of need within our program. Whether it be coming to help tutor the mothers in math, science or english, to babysitting a child for mom to have some "Me Time". We are also in need of babysitters for sick children so mom can still attend school and work or when moms attend parenting sessions, bible study and group counseling. You could also come and help out with one of our many events or activities, such as Sunday Fundays or come and get dirty during one of our Saturday landscaping days which include breakfast with our mothers and children.
Mentor
MENTOR: by definition a mentor is an experienced and trusted adviser. Synonyms: coach, counsel, guide, lead, pilot, shepherd, show, tutor
Being a mentor is being a positive role model for a mom, ages 18 and older, who needs and wants one, possibly because:
• There is a desire and need for teachable moments in regard to life, parenting, womanhood, understanding and growing in their walk with the Lord, etc.
• Due to their past backgrounds and busyness of their "singleness" circumstances, they need to know they are not alone in this journey to better themselves.
• They are unable, or don't know how to dedicate and invest time in themselves.
• There is a desire to confide in and interact with an adult; as in many instances there is a lack of their immediate family support.
Mentoring is about being developmental not prescriptive. Prescriptive is when the mentor emphasizes their own goals and/or setting expectations for a mentee that are often not met. Developmental is when goals and expectations are based on the needs of the protégé. Guiding your mentee towards an adulthood of healthy choices, successful employment and positive relationships can be both a challenge and rewarding experience.
If you are interested in helping in one of these ways or have something else in mind you think would be beneficial to our mission, please click the button below.
Wish List
We are in need of the following items.
Prayers
Bus Passes
Diapers Size 4, 5 & 6
Laundry Detergent
(Fragrance & Dye Free)
Dishwashing Soap
Door Knob Covers
Gift Cards
Enrichment Activities
Meal Time Mentors
Cleaning Products
Feminine Products
Coffee K-Cups
Driving Instructors
Math, Reading & Study Tutors
Volunteer Coordinator
Gala Event Committee Members
Children's Medicine

THANK YOU FOR YOUR INTEREST IN HELPING OUT AT
THE NEW BEGINNINGS. PLEASE FILL OUT THE FORM AND
WE WILL BE IN TOUCH.

Take the next step by selecting an area in
which you would like to assist.

Tutoring math, English, etc.

Babysitting kids for mom to have some "Me Time". (2-4hrs)

Babysitting a sick child so mom can attend school, as daycare sends them home if sick (1-2)hr

Babysitting for kids when moms attend parenting class, bible study or group counseling (1hr)

Meal Mentors come one day a week/month to eat dinner with our families

Mentors one on one

Event Volunteer when going on out with our moms

Sunday Fundays playing games, set up, facilitating activities, etc.

Landscaping Day Saturday breakfast included with the moms and kids

Any other way you think you can gift TNB that you don't see here
If you are interested in becoming a mentor or volunteering, please click the button below.
Requirements
Develop long-term relationships with the single moms that are part of our program and be willing to nurture and exemplify a life mirroring the love of Christ to those who may not have ever experienced it. Background check required. You must attend Mentor Orientation, complete a touring visit and the Application for Mentorship. There will be an interview with the Operations & Executive Director and a meeting with the moms and thier families. Be willing to serve as role model and assist mom/child achieve his/her goals. Visits by phone and in person are a must.