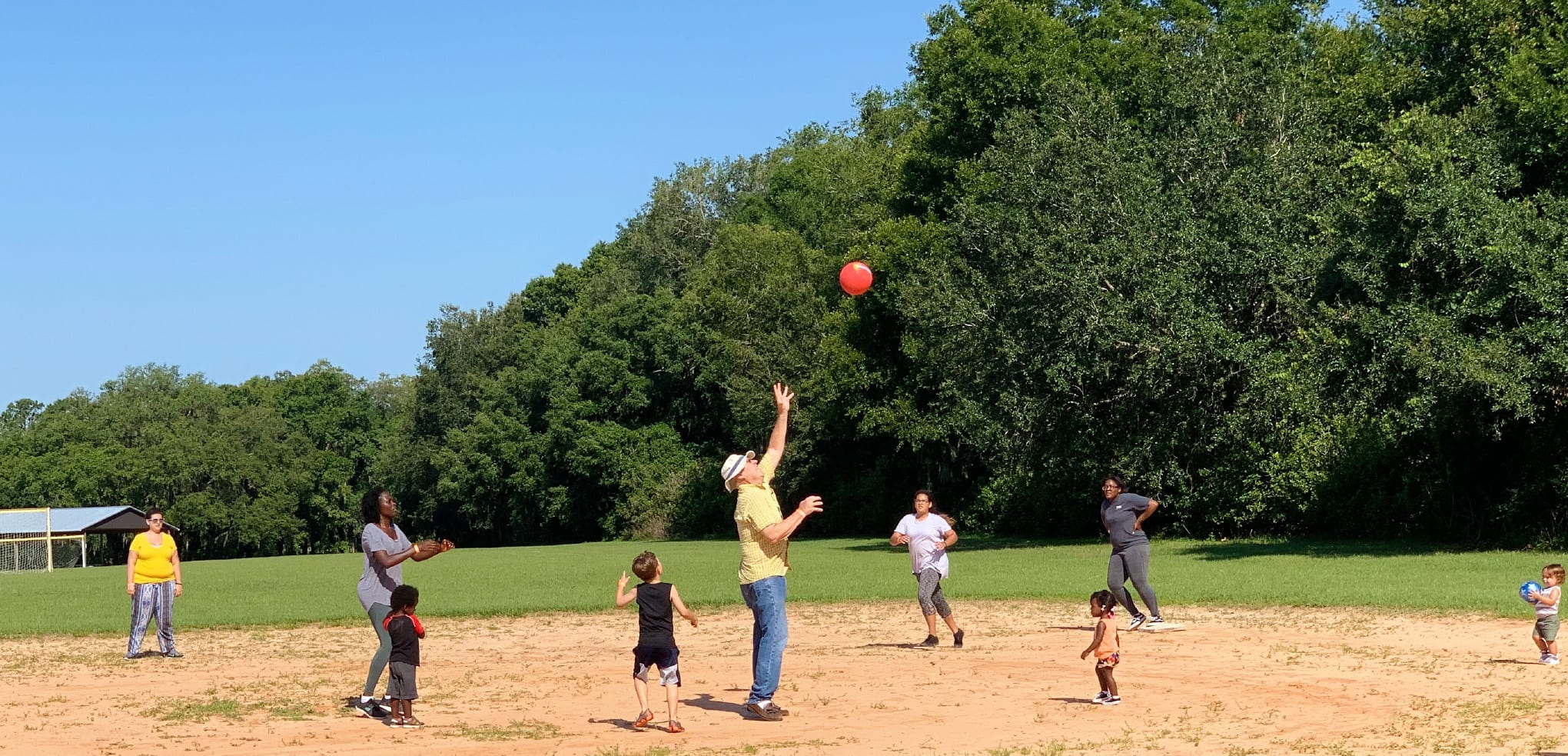 LIFE AT THE NEW BEGINNINGS
Here at The New Beginnings we are centered around helping single mothers not only survive, but to thrive in all areas of their lives. We provide a safe environment to grow and overcome obstacles that may hinder spiritual growth and aspirations for more.

Housing
Each mother has her own 2-bedroom, 2-bathroom apartment. There is a $500 deposit fee to move in and a $300 monthly case management fee. The beautiful front and back yards are totally fenced in for children's safety with a play area and a swing set. Each apartment is fully and beautifully furnished complete with all household needs including a washer and dryer.

Parenting
Weekly parenting sessions are held to equip our ladies with the tools to nurture their children at each stage of development and to guide and support the women in all areas of parenting.

Budgeting
Being a single mother often comes with some unique challenges, especially in the financial arena. After all, raising kids
doesn't come cheap. According to the USDA, it costs $233,610 on average to raise a child to age 18.
Budgeting here is taught in real time. We help monitor the public assistance the ladies receive to ensure they are effectively
managing their resources. We want to make sure that our ladies do not lose sight of their goals while they are here.

Counseling
Some of our residents may come with issues of past trauma. When emotional issues are affecting the progress of moving forward to a healthier life, we will assist our ladies to get the help they need.
LEADING STRESS CAUSING FACTORS FOR SINGLE MOTHERS
Sleep Deprivation
Not surprisingly, single moms rarely get enough sleep. Why? Because they can get so much done when their kids are sleeping! Laundry, housekeeping, night shifts, studying and other responsibilities often undermine a single mom's chance at a good night's rest. Sleep deprivation is a fragile foundation on which to cope with other challenges.
Inadequate Self-Care
Single moms are so busy and focused on their children that they don't spend enough time on self-care and renewal. "Spa days" are a pipe dream for most single moms, and finding time to exercise can seem impossible. Self-care enables women to cope with the challenges of single parenting, but most single moms put their own care last on their to-do list.
Financial Insecurity
In the aftermath of divorce or the loss of a partner, single moms often become economically vulnerable. Minimum wage keeps many single moms below the poverty level—even when they're working full time! Across America, homeless shelters are the final refuge for many single-mom families. Not surprisingly, poverty and economic hardship are linked to anxiety and depression.
Ongoing Conflict with Ex
Divorce and separation are hard enough, but continuing conflict with a child's other parent can erode a single mom's mental health. Bullying, manipulation, withholding child support and violating divorce agreements are among the many behaviors divorced women tell us they face.
Weak Support Networks
When a woman becomes a single mom — whether by choice or circumstance — her friends often drift away when she needs them the most. Friends may choose sides, feel awkward or be unable to relate to a single mom's new reality. Disconnection from community gives rise to feelings of alienation and hopelessness.
History of Abuse
Rates of domestic violence and abuse have reached intolerable levels in society. A substantial number of moms who seek support at TNB have left abusive relationships.
Although they have made the brave choice to leave, the psychological trauma lingers and can be easily triggered. Without support or resources, too many single moms carry a heavy burden of pain, which is often expressed in PTSD, depression, and other mental health challenges.
Stigma & Judgement
Stereotypes of single motherhood abound. These judgments can come at any time — from a child's teacher, another parent, or a co-worker. I strive to honor and inspire single moms because the daily assault of negative assumptions about their parenting skills and moral character is demoralizing and unfair. It is time to realize that single moms are invaluable to the fabric of American society and to treat them as such.
We are astounded by the resilience and fortitude of single moms, who currently are raising 23 million children in the United
States alone. The route women take to single motherhood varies but parenting alone is physically and emotionally demanding.
For some single moms, it can take a toll on their mental health.
Every hour of every day, single moms rise to the occasion for their children, and they are doing an amazing job. Unfortunately,
many single moms do not like to ask for help and often do not even believe they need help.
For some single moms, stressors can pile up and lead to a mental health crisis. Some of the women who come to our site struggle with depression, anxiety disorders and PTSD. Sometimes they self-medicate with alcohol or drugs.

Spiritual Development
At The New Beginnings, we believe faith is a corner stone of who we are and why we exist. Equipping single home or residents with a Spiritual tool to fight the good fight is of the upmost importance. Below are some of the ways we do that here.
Church
The residents will be expected to attend church each Sunday.
Devotionals
The ladies participate in community bible studies offered on site when available to expand their foundational understanding of the Gospel for their lives and their children.
Godly Influences
The New Beginnings believes that the people in a person's life are vitally important to success or failure. Part of our ministry is connecting these mothers with Christian mentors and a loving church family in order to support and guide them in a Godly way. We encourage the ladies to surround themselves with God-fearing individuals who can assist them in positive change and influence them to stay on track while they are here at TNB and for the rest of their lives.
Living Relationally
The women are surrounded throughout the week, at some events and in some one-on-one, off-site time, with volunteers and mentors that are able to share their faith and testimony to inspire change and show the grace of his love for them.
Bible Study Group
The women spend time in group reading scripture, asking questions, discussing how it applies to their own life experiences.

Mentorship
Each woman in the program is assigned a mentor who is like a friend, a coach, and a cheerleader. The mentor helps the women by answering questions, listening to frustrations, and being an encouragement.